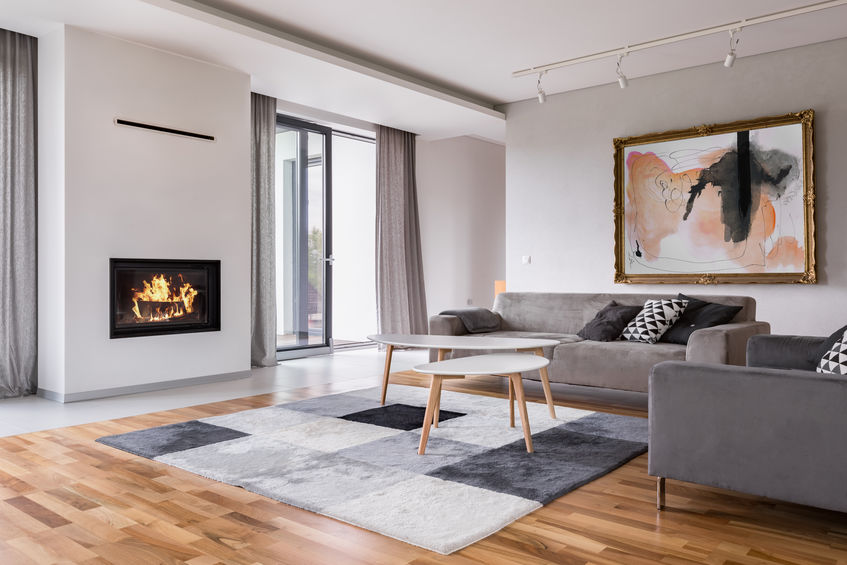 To keep your renters happy and your home competitive, it's important to find ways to add value to the home wherever possible. This can become very expensive and time-consuming if you don't have a regular update plan in place, which is where we can help. We've researched and compiled the top three DIY's that offer the most simplicity and utility to your renters that you can accomplish with simple 2x4s and hardware … saving you much-needed time and trips to the hardware store.
Paneled statement wall
Listen, we all grew up making fun of our parent's wood-paneled walls from the '70s, and we may cringe when we see the decor choices around them in-home movies, but the wood-paneled wall is making a comeback in a big way, along with so many other classic retro decor decisions. However, rather than lining all four walls of a room with the particle board paneling that coated every finished basement in 1979, choose one wall to be the statement wall. Then, you can stain the 2x4s a beautiful, shiny, complementary color to the rest of the walls and line the statement wall with them. The density and shape of the 2x4s give a look that doesn't read out of date, but like a new take on a classic design trend.
Window seat
Your tenant will love lounging a lazy Saturday away with a newly installed window seat, or using it as a multipurpose object for extra low-hanging shelves. No space can be wasted in a rental home, and putting in a window seat is an excellent use of space while creating a fun and whimsical infusion into the room's style and structure. After all — nothing is cozier than a piece of furniture made to fit precisely into a specific place! Nooks are growing in popularity and can be styled to fit in attractively nearly anywhere in your space. Most commonly, you can place these in front of a kitchen or bedroom window where the sun comes through for maximum effect.
Bistro tables
Take your tenant to Europe from their own front porch or backyard with the inclusion of a wooden bistro table. These tables are designed to be compact and offer a cafe-like, cozy touch to the home in seconds. Bistro tables are great either indoors by a wide-sprawling window, or outside on a porch or in a garden. These are great places where your renters could enjoy a cup of tea or coffee, or simply soak up the rays from the comfort of their own backyard. Construction is simple, and requires a few 2x4s and hardware from the construction store.
If you're wanting to start on these upgrades but aren't sure where to find materials, we can help! Western Building Center Evergreen is just up the road and is ready to help with any hardware needs that you may have. You can visit them today at 1019 E Idaho St in Kalispell, MT.