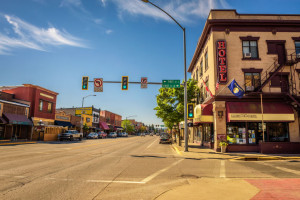 Welcome to the bustling heart of Kalispell – Downtown! This vibrant neighborhood is a hub of activity, featuring an array of shops, restaurants, museums and galleries. From historic landmarks to trendy boutiques, there's something for everyone here. Whether you're a local or just visiting town, we've compiled a list of must-see destinations in Downtown Kalispell that are sure to make your trip unforgettable. So fasten your seat belts and get ready for an adventure!
Kalispell Grand Hotel
Kalispell Grand Hotel is a historic hotel located in the heart of downtown Kalispell. The hotel was built in 1908 and is listed on the National Register of Historic Places. The Kalispell Grand Hotel offers a variety of amenities including a restaurant, bar, fitness center, and business center. The hotel is also within walking distance of many local attractions such as the Flathead Lake State Park, Whitefish Mountain Resort, and Glacier National Park.
Conrad Mansion
The Conrad Mansion is one of the most popular tourist attractions in Downtown Kalispell. The mansion was built in 1891 by Charles E. Conrad, a successful businessman, and politician. The mansion is a beautiful example of Queen Anne Victorian architecture and is now a museum that is open to the public. Visitors can take tours of the mansion and learn about the history of the Conrad family and the early days of Kalispell.
Museum of Northwest Montana
The Museum of Northwest Montana is a great place to learn about the history and culture of the Kalispell area. The museum has a wide variety of exhibits that cover the early days of the region all the way up to the present. You can also find a gift shop and an events calendar on the website.
Hockaday Museum of Art
The Hockaday Museum of Art is one of the best things to see in downtown Kalispell. The museum features a variety of artwork from different cultures and time periods. There is also a gift shop where you can purchase souvenirs. The museum is located in the historic Hockaday Building and features over 1,500 works of art. The collection includes fine art, photography, sculpture, and artifacts. There are also regular exhibitions featuring work from contemporary Native American artists and other regional artists. The museum has a wide range of educational activities for visitors as well, including lectures, workshops, and tours.
Whether you're an experienced art enthusiast or just getting started with your appreciation of the arts, the Hockaday Museum of Art is definitely worth a visit. It's sure to provide hours of entertainment as you explore the unique collections and exhibits on display.
Flathead Lake Brewing Company
Flathead Lake Brewing Company is a great place to stop for a pint while exploring downtown Kalispell. This local brewery has a wide selection of beers on tap, as well as a rotating selection of seasonal and limited-release brews. In addition to its excellent beer, Flathead Lake Brewing Company also offers a menu of pub-style food, making it the perfect spot to grab a bite after a day of shopping or sightseeing.
Conclusion
Downtown Kalispell offers an array of attractions and experiences that make it a great destination for all types of travelers. From the historic Depot Museum to the beautiful Flathead Lake, there is something here for everyone. Whether you're looking to soak up some history or just have fun in nature, Downtown Kalispell has it all. No matter what type of traveler you are, this charming town will surely leave a lasting impression on your heart!
Need help managing your local properties? PMI Realty Management NW has you covered. We provide high-quality residential and short-term property management services to property owners in Kalispell, Whitefish, Columbia Falls, Bigfork, Lakeside, Somers, Polson, West Glacier, Essex and Kila.
.