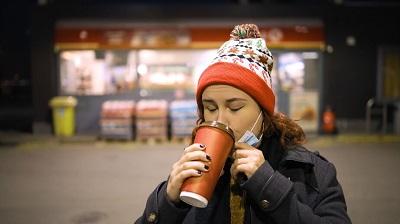 The holidays are filled with all things cozy. Sitting by the fireplace, watching the lights twinkle, and enjoying family time and dinners are just a few of the things that make the holidays special. The indoors have a special spot in our hearts for the holidays … but sometimes, you just want to get out of the house for a while. Are you ready to get outside and soak in the beauty of the season? Don't worry — we got you! Here's a list of fun holiday trips and treats that you can enjoy in the Kalispell area.
Go out and chase the lights
If you're looking to get into the holiday spirit, there's no better way than to go out and chase those light displays! The Montana Trolley Co. has been largely credited for giving the best private tours around — and reservations are already on sale! The tours from the Montana Trolley Co. are based on a private booking system — you can visit their main webpage for more information, and book your tour before they sell out! Bundle up and get ready for some family fun!
Lean into letterboxing
You're probably wondering…what is letterboxing? Letterboxing is a family activity that involves finding small, weatherproof boxes hidden in publicly accessible places (like parks). The best part? It's completely free! The letterboxing community is large, and they post clues online on various websites. Unlike geocaching, you don't need a handheld GPS to find these little treasures — just your imagination! If you want more information for letterboxing opportunities in the greater Kalispell area, just go to this link and search by city to find a list of boxes in your area. Then, you can print out a list of clues for each box. Once you've found a few boxes, try finding your own secret hiding place, creating a box of your own and launching your own personal letterboxing game for your friends and family! For more information about letterboxing, check out this informative Q&A.
Spend a night at the museum
Too cold or wet outside? No problem! Those are the absolute best museum days. The Hockaday Museum of Art is open throughout the winter season and boasts several beautiful and hands-on exhibits. This attraction is perfect for attendees of all ages, and can give you a great outdoor activity option out of the snow and rain! This museum truly has something special for everyone. For more information on current COVID-19 guidance and purchasing tickets, simply visit their website here.
Make a holiday scavenger hunt
Scavenger hunts aren't just spring or summer activities, they can be especially fun at Christmas! A scavenger hunt in the winter months offers a different type of frosty fun! The fun doesn't have to stop when the hunt is over — you can make it a neighborhood affair, and wrap up the hunt with a steaming cup of hot chocolate and some warm cookies.
Take a hike — literally!
Kalispell is home to beautiful settings and wintery trails. Sometimes spending a bit of time in the outdoors in the winter months can do your mind and body good. It doesn't have to be a complicated affair, you could see a lot of sights and sounds of the season during just a simple walk through your neighborhood. Plus, you'll have fun, too!
We know that the cold makes people want to linger indoors, but even moderate activity and a bit of sunlight can help release endorphins (those hormones that keep us happy) this winter! So, get out there and get moving!
From all of us at PMI Realty Management NW, we wish you and your family a wonderful holiday season. Looking to place your home for sale or for rent? We'll help you get the most income possible from your property, determine your cash flow from monthly rental value, and gain critical insight into local real estate market conditions. Give us a call to learn more about us at (406) 629-1387.