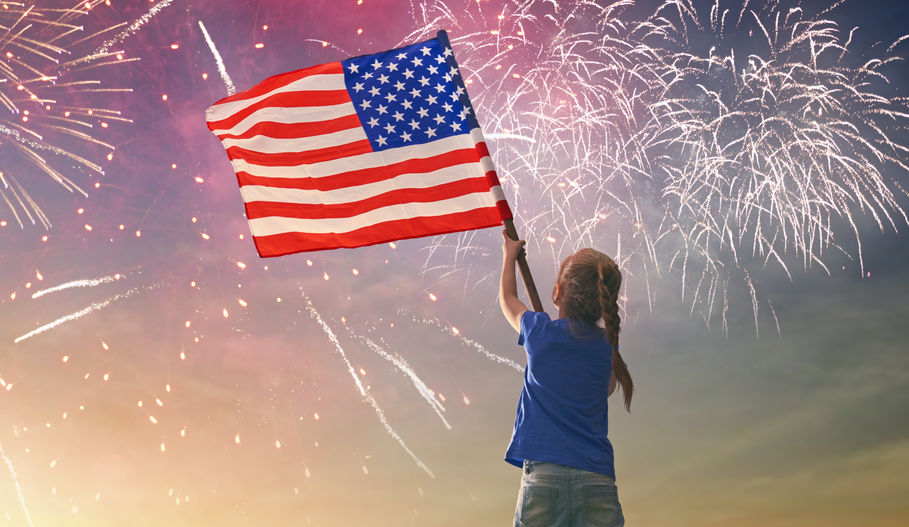 Fourth of July is just around the corner—have you made your celebration plans yet? There's nothing that compares to a balmy summer night out with your favorite people, food, and fireworks above you…which is why we're helping round up all of the top places to celebrate our nation's birthday in Kalispell, Montana. Whether you're wanting to keep your tradition or try something new, we have Fourth of July suggestions that the whole family will love. Read on to explore the best firework viewing spots and festivities that you can enjoy in Kalispell.
1. Kalispell Fourth of July Parade
Kick-off your morning with a patriotic celebration! There's no better way to do this than a town-wide parade. The Kalispell Fourth of July parade is held on Main Street every year, featuring floats and displays from the local businesses and clubs in the community. Parade officials encourage both vendors and visitors to go all out in their Fourth of July decor, from costumes to float flair. Come on down, celebrate with local community members, and enjoy supporting local Kalispell businesses and clubs.
2. Fourth of July Celebration at the Harbor Grille
Feeling like getting out on the town? Visit the neighboring town of Lakeside and enjoy a party-filled Fourth of July celebration at the Harbor Grille. This event will be a party to remember, featuring your favorite 80's rock cover bands, great eats, and a firework show that's one of the best in the state. You'll be able to enjoy your favorite drink as the fireworks crash over the clear-blue waters of the lake, setting the scene for a truly romantic and special way to celebrate. This is ideal for couples, friend groups, or a special Fourth of July date night that you won't forget.
3. Take a hike up Lone Pine State Park
If you're looking for a bird's-eye view of the fireworks, you'll want to be sure to stop by Lone Pine State Park with a picnic and your favorite outdoor gear. The location of the park offers you a completely clear view of the town's displays and is a great way to escape the crowds if you're looking for a more intimate way to enjoy yourself. Plus, you'll be far enough away from the display to avoid any sort of noise or discomfort, which is great for those who are more noise and crowd sensitive. Just make sure to call or message Lone Pine State Park and ask them if they'll have fireworks viewing open this year on the 4th since they usually close down after dusk.
Gearing up for the Fourth of July in Kalispell
Before you enjoy the festivities of the season, it's important to get prepared! Chances are, you'll be outside—so you'll want to prepare your gear bag accordingly. Some places might also be closed on the Fourth of July, so you'll want to stock up on your favorite treats and eats ahead of time. Below, we've made a list of a few essentials you might want to consider for your Fourth of July experience:
SPF-protective sunscreen
Picnic essentials and blankets for meals outside
Bug spray and gear for protection
Bottled drinks of choice to celebrate
Earplugs to avoid hearing damage or discomfort from firework displays
Portable phone chargers to catch every minute of the action
You can find most of these things at your local shops. We recommend the Kalispell Center Mall if you're looking for more niche items or tech stuff, like portable phone chargers and protective tools. Their shops offer everything you will need to celebrate comfortably. If you're looking for a new festive outfit or outdoor gear, you can also visit The Montana Scene for the latest looks and comfortable clothes.
Kalispell is growing. It's time for your rental property to, too.
Kalispell has become a gorgeous spot to buy and rent in Montana. Are you considering renting your Kalispell residential property? If so, the experts at PMI NW are here to help. Our team offers end-to-end professional residential rental support, tackling everything from management requests to listing assistance. For more information, please visit our website. We look forward to connecting soon!