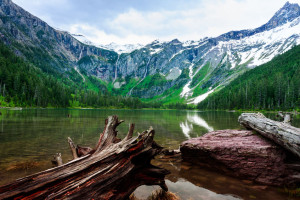 There are few places in the world that offer an eclectic mix of natural beauty, spectacular scenery, and exciting activities as much as Kalispell, Montana. From snow-capped mountains to rolling hills and crystal clear lakes to lively rivers, this Northwest city is a must-visit for anyone who loves being out in nature! Kalispell offers something for everyone – whether it's hiking, biking, boating, or fishing. There are endless possibilities when it comes to exploring the great outdoors here. So if you're looking for some adventure and relaxation away from civilization, read on and find out why Kalispell should be your next outdoor destination!
Glacier National Park is a must-see when visiting Kalispell. The park is home to over 700 lakes, 1,000 species of plants, and hundreds of animal species. There are also glaciers, waterfalls, and hiking trails galore. Whether you are looking for a historical immersion or incredible pictures to fill your Instagram feed, Glacier National Park does not disappoint.
Visitors can explore the park by foot, bike, boat, or even horseback. There are plenty of ranger-led programs available as well. Some of the most popular activities in the park include camping, fishing, wildlife watching, and photography.
Glacier National Park is open all year round, though some areas may be inaccessible due to snow in the winter months. Be sure to check the conditions before heading out. And, as always, plan to adventure with a buddy. Not only is it more fun, but it's also safer.
Flathead Lake is one of the most popular destinations in Kalispell. It is a great place to enjoy the outdoors with family and friends. Activities to enjoy at Flathead Lake include swimming, fishing, hiking, and picnicking. The lake is also a great place to relax and enjoy the stunning scenery.
Hailed as the largest natural freshwater lake in the western United States, Flathead Lake is also the largest by volume of water in Montana. It is over 200 square miles in size, making it larger than some of Montana's other popular lakes such as Swan Lake.
The shores of Flathead Lake are home to several small towns, where visitors can find a variety of accommodations, restaurants, and attractions. Many of these towns also offer year-round activities such as skiing, snowmobiling, boating, kayaking, and golfing. Visitors to the area can enjoy shopping at local shops or browsing art galleries. The area around Flathead Lake also offers great opportunities for wildlife viewing and bird watching.
Whitefish Mountain Resort, located in Whitefish, Montana, is a year-round destination for outdoor enthusiasts. The resort offers 3,000 acres of skiing and snowboarding terrain, as well as a variety of other winter activities. In the summer, visitors can enjoy hiking, mountain biking, and golf. The resort is also home to a variety of shops and restaurants. Additionally, the resort features several conference and event spaces for group activities and meetings. Whitefish Mountain Resort is a great destination for anyone looking to experience amazing mountain recreation with easy access to all the amenities of town.
Conclusion
Whether you're looking for a relaxing outdoor destination or an adventurous escape, Kalispell is the perfect central spot to stay as you explore. From scenic hiking trails to time on the lake, we have it all. So what are you waiting for? Pack your bags and get ready to enjoy all that nature has to offer in this spectacular part of Montana!
Need help managing your short-term and residential rental properties? PMI Realty Management NW has you covered. We provide high-quality vacation and residential property management services to property owners in Kalispell, Whitefish, Columbia Falls, Bigfork, Lakeside, Somers, Polson, West Glacier, Essex, and Kila.