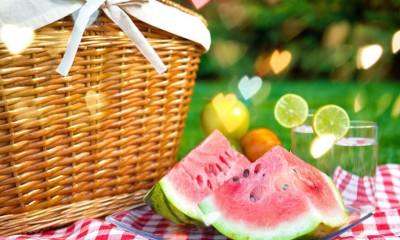 Labor Day is just around the corner—how will you be celebrating with your friends and family? As the heat of the summer comes to a close, we're encouraging everyone to get out and soak up the sun. If you're looking for inspiration to help you end summer with a bang, we've got you covered! Below, we're diving into the best ways to celebrate Labor Day in Kalispell.
1. Pack a Picnic and Grab a Hike at Lone Pine State Park
Nothing says summer like a sunset picnic at one of the most beautiful parks in Kalispell! Grab your closest friends and family and close out your summer potluck-style at Lone Pine State Park. Soak in the beautiful vista view and get perfect shots of Big Mountain, Jewel Basin, Flathead Lake, and Glacier National Park. Stop by the visitors center, and grab a map to pick the perfect grill and fire-ring setup for some night-time s'mores. The park stays open from 8:00 a.m. to sunset year-round, giving you plenty of time to kick off the change of season and indulge in some delicious eats. If you're a Montana resident, you can get in for FREE if you pay the included $9 state park fee annually with your vehicle registration. Not a local? No problem! Day use entrance fee is only $8 if you bring your vehicle, and drops to $4 if you come on foot or on a bike. This is the perfect activity to enjoy if you're looking to celebrate on a budget.
2. Get Moo-Ving for Fresh Ice Cream at the Kalispell Kreamery
Ready for the freshest ice cream you've ever had? Stop by the Kalispell Kreamery for some seriously fresh and delicious ice cream. This family-owned farm was once a local powerhouse for milk and dairy product creation and was known for selling to processing plants for over 35 years. Now, the Hedstrom family decided to move into personal sales and farm experiences for local residents, and proudly offer the freshest milk, cream, and icy treats that you can get your hands on. They also offer fresh ground beef if you're looking for the perfect addition to your summer cookout. You can stop by any time Sunday through Thursday from 7:00 a.m. to 3:00 p.m., and Fridays if you make an appointment in advance. Call today for more information and product availability via (406)-756-MILK.
3. Stroll Down Historic Main Street in Downtown Kalispell
Sometimes it's the simple moments that are the best ones! As summer comes to a close, grab your friends and hit the streets of downtown Kalispell. This historic city was heavily influenced by railway construction, so you'll be able to view several fascinating examples of late-modern construction and remnants that are still under the Core and Rail Redevelopment and Trail project started in 2012. Whether you're a train fan, or you're looking for a new and fun way to spend lazy summer nights, you'll love exploring the streets and finding new hidden gems to try.
Looking for places to eat along downtown Kalispell's main street? Be sure to stop in and try Mackenzie River Pizza for artisan pizza with the freshest ingredients you've ever tasted.
Residential property management in Kalispell, MT
Looking for help managing your residential property listing in Kalispell? Our team of experts is here to help! PMI offers end-to-end management solutions that help you to maximize your rental property investment: working alongside you from listing to resident management. For more information about how PMI NW can assist you through the rental process in Kalispell, please visit our website. We look forward to connecting with you soon!