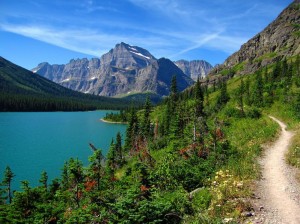 If you're a Montana resident in Glacier Country looking for a way to explore the Big Sky Country from the comfort of your own home, then book explorations are the way to go. There are countless books set in Montana, some right here in Flathead Country, that are both entertaining and enlightening.
The vast landscape, rugged mountains, and crystal-clear rivers provide a sense of peace and beauty that can be hard to find elsewhere. If you're looking for more ways to capture the spirit of Montana, these books will take you on a journey of discovery through the state's majestic scenery and fascinating history. Let's take a look at five of the best books that take place in this beautiful state.
1. Perma Red by Debra Magpie Earling
This novel is first on our list because it takes place right here in Flathead County! Set in the early 1940s on the Flathead Indian Reservation, Perma Red follows the story of Louise White Elk as she navigates life on the Flathead Reservation near Polson, Montana. This beautiful novel paints a vivid portrait of life during this era in Montana and highlights the importance of culture, heritage, and identity. As she approaches adulthood, Louise looks for ways to escape the often brutal social treatment of the Native people in Montana and build an independent life, but three persistent men in the community have other ideas for Louise's life…
2. A River Runs Through It by Norman Maclean
Perhaps one of the most famous books set in Montana, A River Runs Through It by Norman Maclean is a semi-autobiographical novella that tells the story of two brothers coming of age in the 1930s in Montana. Along with exploring themes of family dynamics and growing up, this book also celebrates nature in all its glory as it follows its characters on fly-fishing excursions throughout Montana's rivers. This American classic is considered one of Maclean's best works, being nominated for a Pulitzer Prize in 1977, and it has even been adapted into an award-winning film starring Brad Pitt.
3. The Smoke Jumper by Nicholas Evans
You might know Nicholas Evans from his debut New York Times bestselling novel The Horse Whisperer (also set in Montana). The Smoke Jumper follows Jake as he attempts to overcome his past mistakes by becoming a smoke jumper — a firefighter who parachutes into remote areas to battle forest fires — in western Montana. With its thrilling storyline and vivid depictions of nature, The Smoke Jumper combines gripping suspense with epic romance, making it an unforgettable page-turner.
4. The Power of the Dog by Thomas Savage
One part mystery novel, one part character study, The Power Of The Dog is set against a backdrop of rural Montana in the 1920s and follows rancher brothers Phil and George Burbank. This book is a slow-burn exploration of human relationships as the brothers battle over land, money, and women in their small-town community. Savage paints a vivid portrait of rural life during this era while exploring themes such as family loyalty, morality, and love. The Power of the Dog was made into a movie in 2021 starring Benedict Cumberbatch, Kirsten Dunst, and Jesse Plemons.
5. Come Sundown by Nora Roberts
Another New York Times bestseller set against an exquisite western Montana backdrop, Come Sundown tells the story of Bodine Longbow as she manages her family's upscale ranch and resort. Romance fills the pages after she reconnects with Callen Skinner, her former lover who still holds a special place in her heart despite all these years apart, but the story soon takes a sinister turn when Bo and Cal stumble upon the body of a murdered young woman not far from the ranch. This empowering novel has all that romance readers have come to expect from Nora Roberts but with an added layer of depth thanks to its captivating Montana setting and gripping mystery.
These are just five books that take place within our beloved state of Montana; there are plenty more out there! So if you're looking for something new to read or want to learn more about what makes our state so special, don't hesitate to pick up one (or more!) of these titles. Grab your favorite blanket and some hot cocoa — it's time for some literary exploration! Happy reading!
Looking for property management solutions in the Northwest/Flathead region of Montana?
At PMI Realty Management NW, we understand that property management can be complicated. That's why we offer our clients an extensive suite of services to ensure their properties are managed efficiently and effectively. Our experienced team will take the time to understand your needs as a property owner and provide you with a FREE rental analysis, including a comprehensive report about your property and your neighborhood.
With our expertise and knowledge, we can help you make the most out of your investment while keeping it secure and profitable. Visit our website or call us at 406.426.1916 today to learn more about how PMI Realty Management NW can help you with all your property management needs – no matter what size or type of investment you have!